How much of our health can be hacked? Is there ever going to be a magic bullet, a perfect formula, that can maintain us in peak form without the agony of cooking, analyzing, exercising constantly?
One guy thinks so, and his attempt was brought to my attention recently. He's calling his food-replacement formula Soylent (though he specifies very clearly that it contains no humans) and has been testing it on himself for two months now. He wants to never have to chew a bite again unless it's for occasional social enjoyment.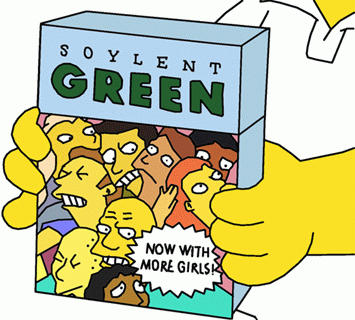 First of all, I want to point out that he's joining a growing army of self-hackers, who use an impressive array of ever-more-readily available information, gadgets, and medical lab technology. In the same way that everyone can potentially sell their old movie posters on eBay, so can the general public find ways to quantify their caloric intake, blood lipid levels, exact moment-to-moment health stats and become their own body's best expert. From Tim Ferriss* on down, everyone wants to become the next big health celebrity and beat out the 'real' doctors. Like playing the stock market, but with their own well-being.
This new guy, Rob R., thinks he's got a fresh approach to the whole essential nutrition thing. He basically says he's not trying to answer the question "what's found in food that we really need?"; he's trying to reverse engineer and answer "what does our body actually require and in what chemical form?" He doesn't seem like a kook or a quack or a lunatic, he's just rather naively enthusiastic and optimistic.
It doesn't seem to have occurred to him that this isn't really asking a new question, that both of those approaches to sustenance are still what has come to be known as nutritionism, breaking food (or Soylent, as the case may be) down to the sum of its parts and taking it out of context; that perhaps the extreme of little-to-no food intake has already been addressed as a medical necessity for various patients or astronauts or other populations, and hence he's not covering any new ground. He's a little bit defensive of people - like me, I presume - who are convinced that food IS more than the sum of its parts. Of course, there are also thinking people who need more scientific sources provided, which are completely missing from his blog, except for the statement that "the proportions in Soylent are loosely based off the recommendations of the FDA."** One would hope for more application of principles such as an experimental control, stuff like that. So don't go out and live on this newfangled Soylent, please.

But, I decided to review his "food alternative" anyway because he had some interesting big-picture thoughts on food, its place in our lives and our global priorities. His initial blog entry, while shockingly low on scientific details, gets decent marks for social and environmental awareness. We're completely dependent on food, though it often makes us sick; growing it, storing it, regulating it, getting rid of all the leftovers we toss, there is just so much collateral damage. He wants to get rid of some of that complexity for those who are tired of it.


That's really the reason that the Soylent phenomenon interested me -- so many people seemed to perk up at the idea of never having to eat again. How messed up has our cultural relationship to food gotten, that people would rather just chuck it all than have to chew and swallow? I couldn't find any hard numbers, but I would guess that the majority of Americans regularly feel fear, guilt, and a whole host of negative emotions just facing their plates every day.

Nutritionism has entrenched this fear and dependence in a huge way, by labeling and proscribing everything we put into our bodies with admonitions about its fat content, or its glycemic index, or any number of scientific angles of expertise.

There's not space in this post to turn this topical corner, but wouldn't it be wonderful to stop feeling like your body and your food were fighting all day, and that if you don't keep up with the latest health headlines you might be risking your life? I hope that, despite my over-the-top habit of cooking everything from scratch, you find inspiration here, and a step away from that scary dependence and fear that food can so often cause.


Or, there's always Soylent. I hear it's delicious...



*see my previous post on S.'s diet from The 4-Hour Body
though sadly, the awesomely scary picture of the author with a giant needle has been taken away
**of the five bibliography-looking links he posted, three are related to calculating the average cost of food so he can compare his drink to it dollar-wise, and the other two are related to caloric restriction increasing longevity. A fascinating subject, one I've looked at and thought about a little, but one he has also completely backed off from a mere month after first posting about it in relation to his Soylent ideas.





I'm really trying to avoid being negative, but I have to share.
And for context, by the way, he's a software engineer.
I notice beauty and art around me that I never did before. The people around me seem sluggish.
I for one would not miss the stereotype of the housewife in the kitchen.